This popular and acclaimed Screenwriters Forum Course ran successfully across the first six months of 2018 and 2019 and is open for new expressions of interest to run again: contact support@friendlycreatives.co.uk to express your interest. This course is for any writer of film, television, or video games, whether you're a pro or a newbie still learning your way. Our aim is to help you on your way, and users rated the quality of the session above 90% throughout the course!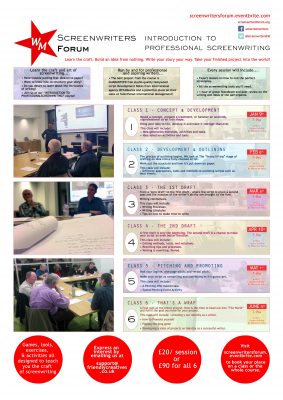 Run by and for aspiring writers for film, TV, and video games with every class delivered by experienced and expert screenwriters. What's more, we've even provided professional actors to dramatise scenes of the writers' scripts, which the writers found to be extremely insightful and illuminating experience.  Our Introduction to Professional Screenwriting Course in early 2018 (which is likely to run again in 2019) was rated by its 23 users (on a scale from 'Very Good' to 'Very Poor', in over 50 feedback forms provided across the course) over 90% overall, with ratings of 93% for its presenters, over 90% for its Content and Media, and almost 90% for its Handouts and Activities. User confidence in the subject grew on average over 18% per session, and user confidence in their own projects grew over 17% too – per session! All of these feedback forms and testimonials are available for you to view on request. Join our sessions to grow your confidence and your projects with industry experts and your peers, every time.
Our friends at international screenwriting company WriteMovies are offering FREE Hollywood Development Notes – and potentially a place on their slate of projects that they guarantee to pitch to industry – to the best project to emerge from the course! We're proud to announce JULIAN AUSTWICK and his script BELIEF as our first winner of this prize – congratulations Julian!
For details email support@friendlycreatives.co.uk.
The classes are as follows:
Class 1 – Concept and Development
Class 2 – Development and Outlining
Class 3 – The First Draft
Class 4 – The Second Draft
Class 5 – Pitching and Promoting
Class 6 – That's a Wrap
Learn the craft. Build an idea from nothing. Write your story your way. Take your finished project to the world.
Check out upcoming course sessions and book your place at: screenwritersforum.eventbrite.com
Please address any queries to support@friendlycreatives.co.uk.