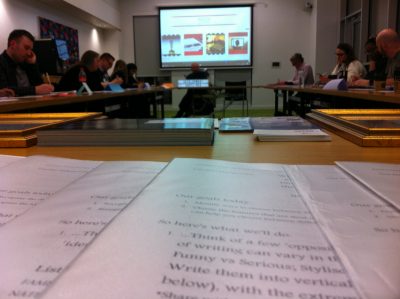 Our popular monthly Script Development Group returns this autumn, taking over where our very successful (and acclaimed!) Introduction To Professional Screenwriting course earlier this year left off. See the full series of sessions (including how to get discounts) and book your place… at: https://screenwritersforum.eventbrite.co.uk!
---
For all sessions, entry is £15 (£7.50 for BCU students – email support@friendlycreatives.co.uk to enquire about this) or £60 for 5 (any 5 of our future sessions, of your choice). You MUST book in advance or we can't include you on BCU's security list to be let into the building – email support@friendlycreatives.co.uk with any queries.
---
VISUAL STORYTELLING, September 4th 7pm: Building on the much acclaimed recent Introduction to Professional Screenwriting course (rated over 90% by users!), the first of our Autumn 2018 sessions will show you directly how to write with the visual potential of screen storytelling in mind. We'll be exploring this by looking at all of the visual devices used in Chapter 2 of Alan Moore's graphic story FROM HELL, cell by cell across its 31 pages: it's well worth getting this and reading it in advance of the session if you can.
---
DIALOGUE WORKSHOP, October 2nd 7pm, BCU Curzon Building: The second of our Autumn 2018 sessions will take you through all the stages of development of a dialogue-driven radio drama scene from an award-winning series. You'll be shown the brief the writer was given and given a series of activities to outline your idea for delivering it, and then to draft and redraft it. We'll even perform a selection of your scenes and play you the finished scene that was broadcast.
---
SELF-PRODUCING YOUR SCRIPTS, November 6th, BCU Curzon Building: The third of our Autumn 2018 sessions will introduce you to writing a shoot-ready script, how to plan your pre-production, how to 'shoot to the edit' in production, and how to edit and package your script. A case study will be provided and tracked from initial concept through to the finished product, from a writer-producer with wideranging experience of doing so.
---
ASSEMBLING YOUR SCRIPT SALES PACKAGE, December 4th, BCU Curzon Building: The fourth of our Autumn 2018 sessions will take you through the elements to attach or generate for your project in order to create a convincing sales proposition for producers, investors and talent. Find out about and view a series of supporting materials and approaches that have been used by professional writers and producers as they drum up support for their projects.
---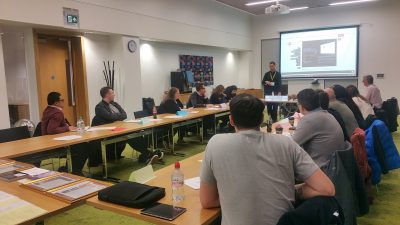 SCREENWRITERS FORUM sessions
can improve your confidence and your projects rapidly. Our Introduction to Professional Screenwriting Course in early 2018 (which is likely to run again in 2019) was rated by its 23 users (on a scale from 'Very Good' to 'Very Poor', in over 50 feedback forms provided across the course) over 90% overall, with ratings of 93% for its presenters, over 90% for its Content and Media, and almost 90% for its Handouts and Activities. User confidence in the subject grew on average over 18% per session, and user confidence in their own projects grew over 17% too – per session! Join our Group to grow your confidence and your projects with industry experts and your peers, every time.
Our Script Development Group sessions are typically designed to provide 15 minutes of news and updates, a half-hour Mini-Masterclass from an industry expert (on a subject requested by the group), 15 minutes of Q&A about it, and then 3×20 minutes spent discussing 20-page samples of scripts provided by the group for development. The aim is that everyone leaves with enhanced skills and knowledge every time and clear action points for how to improve their script, from both their peers and professional writers.