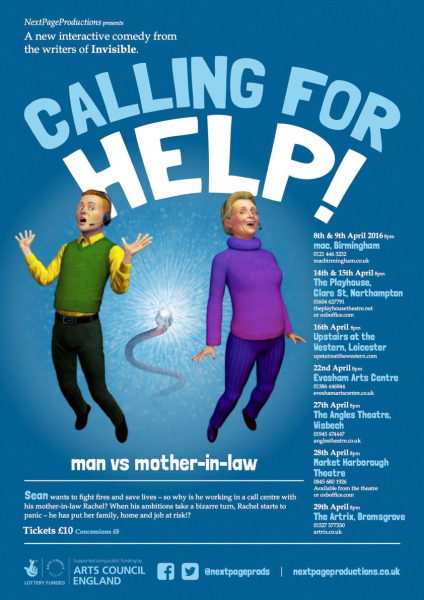 Our member Liz John is a co-writer of this project! Details are provided within the flyer and below.
Calling for Help!
A new interactive comedy by the writers of 'Invisible'.
Sean wants to fight fires and save lives – so why is he working in a call centre with his mother-in-law Rachel? When his ambitions take a bizarre turn, Rachel starts to panic – he has put her family, home and job at risk!
Meanwhile Sean is having fun….until he notices some strange goings-on. Why is Rachel so concerned about his marriage? Why is she turning everyone against him? And is his newborn baby really talking to him?
Our brand new play Calling for Help opens on April 8th at the MAC in Birmingham then tours the Midlands via Northampton, Leicester, Evesham, Bromsgrove, Market Harborough and even Wisbech. Full tour and ticket links below. Really hope you can make it – it's a very ambitious piece so we appreciate your support and hope to see you there!
Standard tickets: £10 Concessions: £8
Tickets available: www.nextpageproductions.co.uk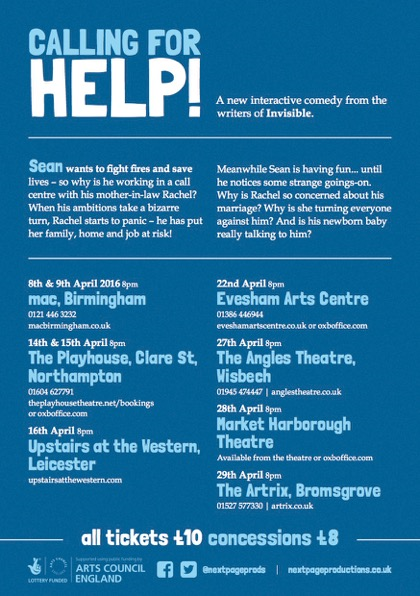 Touring the following dates & Venues:
8th & 9th April, 2016. 8pm.
MAC Birmingham
mac birmingham,Cannon Hill Park, Birmingham, B12 9QH
Sales & Information: 0121 446 3232 / www.macbirmingham.co.uk
14th & 15th April, 2016. 8pm
The Playhouse
Address: 115 Clare Street, Northampton NN1 3JA
Sales & Information: 01604 627791 / www.theplayhousetheatre.net
16th April, 2016. 8pm
Upstairs at the Western
Address: 70 Western Road, Leicester LE3 0GA
Sales & Information: 0116 254 5287 / www.upstairsatthewestern.com
22nd April, 2016. 8pm
Evesham Arts Centre
Address: Victoria Avenue, Evesham WR11 4QH
Sales & Information: 01386 446944/www.eveshamartscentre.co.uk
27th April, 2016. 8pm
The Angles Theatre Wisbech
Address: 4 Alexandra Road, Wisbech PE13 1HQ
Sales & Information: 01945 585587/www.anglestheatre.co.uk
28th April, 2016. 8pm
Market Harborough Theatre
Address: Church Square, Market Harborough LE16 7NB
Phone: 01858 463673
29th April, 2016. 8pm
The Artrix
Address: School Drive, Bromsgrove B60 1AX
Sales & Information: 01527 577330/www.artrix.co.uk