Starting January 9th, 2018, the Script Development Group will be temporarily replaced by the Screenwriters Forum Course – "Introduction to Professional Screenwriting." This course is for any writer of film, television, or video games, whether you're a pro or a newbie still learning your way. Our aim is to help you on your way.
Run by and for aspiring writers for film, TV, and video games with every class delivered by experienced and expert screenwriters.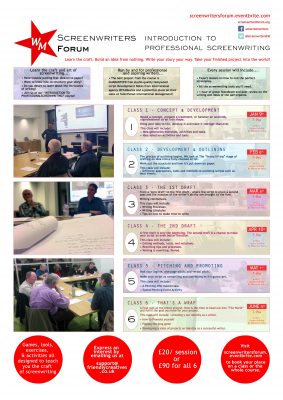 Our friends at international screenwriting company WriteMovies are offering FREE Hollywood Development Notes – and potentially a place on their slate of projects that they guarantee to pitch to industry – to the best project to emerge from the course!
Each class will be held at the BCU, Curzon building, 7-9pm – for more travel details email support@friendlycreatives.co.uk.
The classes are as follows:
Class 1 – Concept and Development – January 9th
Class 2 – Development and Outlining – February 6th
Class 3 – The First Draft – March 6th
Class 4 – The Second Draft – April 10th
Class 5 – Pitching and Promoting – May 1st
Class 6 – That's a Wrap – June 5th
Learn the craft. Build an idea from nothing. Write your story your way. Take your finished project to the world.
Check out the course and book your place at: screenwritersforum.eventbrite.com
Please address any queries to support@friendlycreatives.co.uk.